eyJpZCI6IjE1IiwibGFiZWwiOiJEaXN0cmlidXRpb24gTmV3IiwiYWN0aXZlIjoiMSIsIm9yaWdpbmFsX2lkIjoiOCIsInVuaXF1ZV9pZCI6ImJqbDE3YyIsInBhcmFtcyI6eyJlbmFibGVGb3JNZW1iZXJzaGlwIjoiMCIsInRwbCI6eyJ3aWR0aCI6IjMwMCIsIndpZHRoX21lYXN1cmUiOiJweCIsImJnX3R5cGVfMCI6ImNvbG9yIiwiYmdfaW1nXzAiOiIiLCJiZ19jb2xvcl8wIjoiI2ZmZmZmZiIsImJnX3R5cGVfMSI6ImNvbG9yIiwiYmdfaW1nXzEiOiIiLCJiZ19jb2xvcl8xIjoiIzAwMDAwMCIsImJnX3R5cGVfMiI6ImNvbG9yIiwiYmdfaW1nXzIiOiIiLCJiZ19jb2xvcl8yIjoiI2U3MDA4ZSIsImJnX3R5cGVfMyI6ImNvbG9yIiwiYmdfaW1nXzMiOiJodHRwczpcL1wvc3Vwc3lzdGljLTQyZDcua3hjZG4uY29tXC9fYXNzZXRzXC9mb3Jtc1wvaW1nXC9iZ1wvYmdfc3VwcG9ydF9mb3JtLmpwZyIsImJnX2NvbG9yXzMiOiIjM2YzZjNmIiwiZmllbGRfZXJyb3JfaW52YWxpZCI6IiIsImZvcm1fc2VudF9tc2ciOiJUaGFua3MgeW91IHJlY2VpdmUgdGhlIHF1b3RlcyB3aXRoIGluIDMwIG1pbiEiLCJmb3JtX3NlbnRfbXNnX2NvbG9yIjoiI2U4NzQ0YSIsImhpZGVfb25fc3VibWl0IjoiMSIsInJlZGlyZWN0X29uX3N1Ym1pdCI6Imh0dHA6XC9cL3d3dy5hdXN0cmFsaWFwcmludC5uZXQuYXVcL3F1b3RlLXNlbnQiLCJyZWRpcmVjdF90b19zdWJtaXR0ZWQiOiIxIiwidGVzdF9lbWFpbCI6ImluZm9AYXVzdHJhbGlhcHJpbnQubmV0LmF1Iiwic2F2ZV9jb250YWN0cyI6IjEiLCJleHBfZGVsaW0iOiI7IiwiZmJfY29udmVydF9iYXNlIjoiIiwiZmllbGRfd3JhcHBlciI6IjxkaXYgW2ZpZWxkX3NoZWxsX2NsYXNzZXNdIFtmaWVsZF9zaGVsbF9zdHlsZXNdPltmaWVsZF08XC9kaXY+In0sImZpZWxkcyI6W3siYnNfY2xhc3NfaWQiOiIxMiIsInZhbHVlIjoiPGgxIHN0eWxlPVwiY29sb3I6IHdoaXRlOyBmb250LXNpemU6IDEwMCU7IHRleHQtYWxpZ246IGNlbnRlcjtcIj5cdTAwYTBUbyBHZXQgRnJlZSBEaXN0cmlidXRpb24gTGlzdDxcL2gxPjxwIHN0eWxlPVwidGV4dC1hbGlnbjogY2VudGVyO1wiPih3aGljaCBpbmNsdWRlIHlvdXIgcmVxdWlyZWQgZGlzdHJpYnV0aW9uIHBvc3Rjb2RlcyAmYW1wOyBzdWJ1cmJzIHdpdGggUXVhbnRpdGllcyk8XC9wPiIsImh0bWwiOiJodG1sZGVsaW0iLCJtYW5kYXRvcnkiOiIwIn0seyJic19jbGFzc19pZCI6IjEyIiwibmFtZSI6IiIsImxhYmVsIjoiIiwicGxhY2Vob2xkZXIiOiIiLCJ2YWx1ZSI6IjxkaXYgY2xhc3M9XCJhYm91dFwiPjxwPjxzdHJvbmcgc3R5bGU9XCJmb250LXNpemU6IDE2cHg7XCI+UXVpY2sgUXVvdGUgaW4gMzAgTWluczxcL3N0cm9uZz48XC9wPjxcL2Rpdj4iLCJodG1sIjoiaHRtbGRlbGltIiwibWFuZGF0b3J5IjoiMCIsImFkZF9jbGFzc2VzIjoiIiwiYWRkX3N0eWxlcyI6IiIsImFkZF9hdHRyIjoiIn0seyJic19jbGFzc19pZCI6IjEyIiwibmFtZSI6Im5hbWUiLCJsYWJlbCI6IiIsInBsYWNlaG9sZGVyIjoiTmFtZSIsInZhbHVlIjoiIiwidmFsdWVfcHJlc2V0IjoiIiwiaHRtbCI6InRleHQiLCJtYW5kYXRvcnkiOiIxIiwibWluX3NpemUiOiIiLCJtYXhfc2l6ZSI6IiIsImFkZF9jbGFzc2VzIjoiIiwiYWRkX3N0eWxlcyI6IiIsImFkZF9hdHRyIjoiIiwidm5fb25seV9udW1iZXIiOiIwIiwidm5fb25seV9sZXR0ZXJzIjoiMCIsInZuX3BhdHRlcm4iOiIwIiwidm5fZXF1YWwiOiIiLCJpY29uX2NsYXNzIjoiIiwiaWNvbl9zaXplIjoiIiwiaWNvbl9jb2xvciI6IiIsInRlcm1zIjoiIn0seyJic19jbGFzc19pZCI6IjEyIiwibmFtZSI6ImVtYWlsIiwibGFiZWwiOiIiLCJwbGFjZWhvbGRlciI6IkVtYWlsIEFkZHJlc3MiLCJ2YWx1ZSI6IiIsInZhbHVlX3ByZXNldCI6IiIsImh0bWwiOiJlbWFpbCIsIm1hbmRhdG9yeSI6IjEiLCJtaW5fc2l6ZSI6IiIsIm1heF9zaXplIjoiIiwiYWRkX2NsYXNzZXMiOiIiLCJhZGRfc3R5bGVzIjoiIiwiYWRkX2F0dHIiOiIiLCJ2bl9vbmx5X251bWJlciI6IjAiLCJ2bl9vbmx5X2xldHRlcnMiOiIwIiwidm5fcGF0dGVybiI6IjAiLCJ2bl9lcXVhbCI6IiIsImljb25fY2xhc3MiOiIiLCJpY29uX3NpemUiOiIiLCJpY29uX2NvbG9yIjoiIiwidGVybXMiOiIifSx7ImJzX2NsYXNzX2lkIjoiMTIiLCJuYW1lIjoiUGhvbmUiLCJsYWJlbCI6IiIsInBsYWNlaG9sZGVyIjoiUGhvbmUiLCJ2YWx1ZSI6IiIsInZhbHVlX3ByZXNldCI6IiIsImh0bWwiOiJudW1iZXIiLCJtYW5kYXRvcnkiOiIxIiwibWluX3NpemUiOiIiLCJtYXhfc2l6ZSI6IiIsImFkZF9jbGFzc2VzIjoiIiwiYWRkX3N0eWxlcyI6IiIsImFkZF9hdHRyIjoiIiwidm5fb25seV9udW1iZXIiOiIwIiwidm5fb25seV9sZXR0ZXJzIjoiMCIsInZuX3BhdHRlcm4iOiIiLCJ2bl9lcXVhbCI6IiIsImljb25fY2xhc3MiOiIiLCJpY29uX3NpemUiOiIiLCJpY29uX2NvbG9yIjoiIiwidGVybXMiOiIifSx7ImJzX2NsYXNzX2lkIjoiMTIiLCJuYW1lIjoiRGlzdHJpYnV0aW9uIiwibGFiZWwiOiIiLCJwbGFjZWhvbGRlciI6IkRpc3RyaWJ1dGlvbiBTdWJ1cmJcL1Bvc3Rjb2RlIiwidmFsdWUiOiIiLCJ2YWx1ZV9wcmVzZXQiOiIiLCJodG1sIjoidGV4dCIsIm1hbmRhdG9yeSI6IjEiLCJtaW5fc2l6ZSI6IiIsIm1heF9zaXplIjoiIiwiYWRkX2NsYXNzZXMiOiIiLCJhZGRfc3R5bGVzIjoiIiwiYWRkX2F0dHIiOiIiLCJ2bl9vbmx5X251bWJlciI6IjAiLCJ2bl9vbmx5X2xldHRlcnMiOiIwIiwidm5fcGF0dGVybiI6IiIsInZuX2VxdWFsIjoiIiwiaWNvbl9jbGFzcyI6IiIsImljb25fc2l6ZSI6IiIsImljb25fY29sb3IiOiIiLCJ0ZXJtcyI6IiJ9LHsiYnNfY2xhc3NfaWQiOiIxMiIsIm5hbWUiOiJRdWFudGl0eSIsImxhYmVsIjoiIiwicGxhY2Vob2xkZXIiOiJRdWFudGl0eSIsInZhbHVlIjoiIiwidmFsdWVfcHJlc2V0IjoiIiwiaHRtbCI6Im51bWJlciIsIm1hbmRhdG9yeSI6IjAiLCJtaW5fc2l6ZSI6IiIsIm1heF9zaXplIjoiIiwiYWRkX2NsYXNzZXMiOiIiLCJhZGRfc3R5bGVzIjoiIiwiYWRkX2F0dHIiOiIiLCJ2bl9vbmx5X251bWJlciI6IjAiLCJ2bl9vbmx5X2xldHRlcnMiOiIwIiwidm5fcGF0dGVybiI6IiIsInZuX2VxdWFsIjoiIiwiaWNvbl9jbGFzcyI6IiIsImljb25fc2l6ZSI6IiIsImljb25fY29sb3IiOiIiLCJ0ZXJtcyI6IiJ9LHsiYnNfY2xhc3NfaWQiOiIxMiIsIm5hbWUiOiJKb2JEZXRhaWxzLVNwZWNpYWxJbnN0cnVjdGlvbnMiLCJsYWJlbCI6IiIsInBsYWNlaG9sZGVyIjoiSm9iIERldGFpbHMgXC8gU3BlY2lhbCBJbnN0cnVjdGlvbnMiLCJ2YWx1ZSI6IiIsInZhbHVlX3ByZXNldCI6IiIsImh0bWwiOiJ0ZXh0YXJlYSIsIm1hbmRhdG9yeSI6IjAiLCJtaW5fc2l6ZSI6IiIsIm1heF9zaXplIjoiIiwiYWRkX2NsYXNzZXMiOiIiLCJhZGRfc3R5bGVzIjoiIiwiYWRkX2F0dHIiOiIiLCJ2bl9vbmx5X251bWJlciI6IjAiLCJ2bl9vbmx5X2xldHRlcnMiOiIwIiwidm5fcGF0dGVybiI6IiIsInZuX2VxdWFsIjoiIiwiaWNvbl9jbGFzcyI6IiIsImljb25fc2l6ZSI6IiIsImljb25fY29sb3IiOiIiLCJ0ZXJtcyI6IiJ9LHsiYnNfY2xhc3NfaWQiOiIxMiIsIm5hbWUiOiJzZW5kIiwibGFiZWwiOiJHZXQgRnVsbCBRdW90ZSIsImh0bWwiOiJzdWJtaXQiLCJhZGRfY2xhc3NlcyI6IiIsImFkZF9zdHlsZXMiOiIiLCJhZGRfYXR0ciI6IiIsImljb25fY2xhc3MiOiIiLCJpY29uX3NpemUiOiIiLCJpY29uX2NvbG9yIjoiI2QzMWZiOCIsInRlcm1zIjoiIn1dLCJvcHRzX2F0dHJzIjp7ImJnX251bWJlciI6IjQifX0sImltZ19wcmV2aWV3Ijoia2l3aWZydWl0LnBuZyIsInZpZXdzIjoiMjI5MTkiLCJ1bmlxdWVfdmlld3MiOiIxNDk2MyIsImFjdGlvbnMiOiI5ODYiLCJzb3J0X29yZGVyIjoiOCIsImlzX3BybyI6IjAiLCJhYl9pZCI6IjAiLCJkYXRlX2NyZWF0ZWQiOiIyMDE4LTA5LTA2IDE4OjE3OjUzIiwiaW1nX3ByZXZpZXdfdXJsIjoiaHR0cHM6XC9cL3N1cHN5c3RpYy00MmQ3Lmt4Y2RuLmNvbVwvX2Fzc2V0c1wvZm9ybXNcL2ltZ1wvcHJldmlld1wva2l3aWZydWl0LnBuZyIsInZpZXdfaWQiOiIxNV8xNDA5MzgiLCJ2aWV3X2h0bWxfaWQiOiJjc3BGb3JtU2hlbGxfMTVfMTQwOTM4IiwiY29ubmVjdF9oYXNoIjoiMTBjMDQxYzk2ZmRjYzAzMDdkZTAzMzQ5MzdhNmI3MWQifQ==
Letterbox Distribution services are managed and monitored by professional walkers to make sure that your promotional materials are being distributed in a timely, professional, and accurate manner.
Letterbox Distribution service for Catalogues, Pamphlets, Leaflets, Flyers Etc. Benefit from our years of experience in the Printing and Leaflet Distribution Industry, and our prompt, professional and friendly advice.
We have a very dedicated team who are competent in Letterbox distribution all over Australia. We have a team in every place where they provides the best services and our services extends to Adelaide, Brisbane, Melbourne, Perth and Sydney. 
Australia print offers you specialists who will be delighted to take up your requests and assist you during the development and delivering your advertising flyer campaign until you succeed.
We just don't drop flyers / brochures, we are creating the connection between client and the company. We also extends our services in printing and designing. 
We do print flyers, brochures, magazines, booklets, letterheads, posters, invoice books and carbonless books. We print in various sizes such as DL, A4 and A5. We do print in both single sided and double sided and we have variety of GSM. 
For knowing about the artwork specification please click here.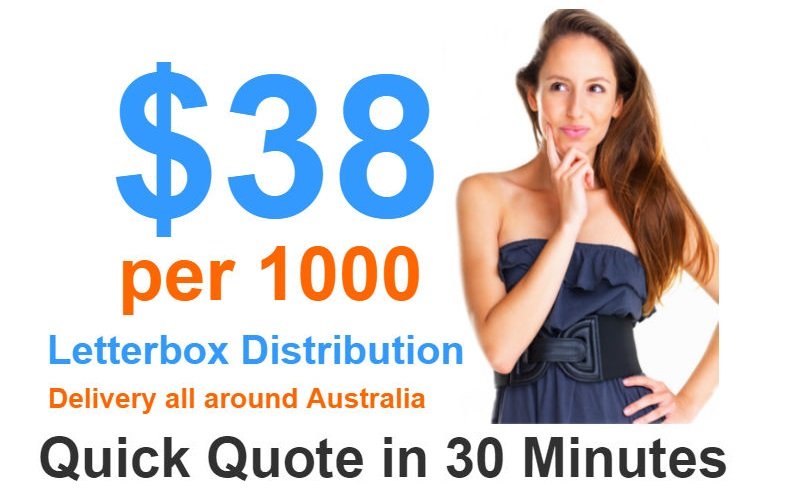 Competitive rates
Fully monitored delivery system
Supervised walkers
Folding Service available
Suburb lists available
You choose target specific areas
Flyer Printing
Magazine Printing
Brochure Printing
Business card Printing
Fridge Calendars
Bookmarks
Adelaide
Brisbane
Melbourne
Perth
Sydney and all other areas.